Home Friends Links Entertainment Where's Mariam? Reviews Contact
11/15/2007
It's good to be weird at the Puyallup Fair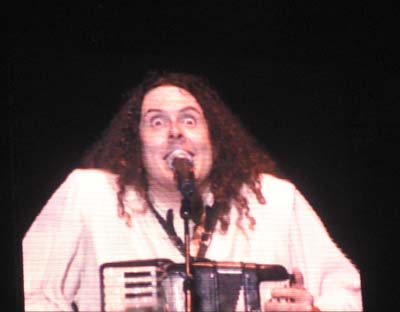 The weird man strikes his classic pose September 12th at the fair!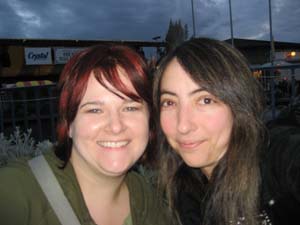 Every year, it comes around and makes Puyallup one of the destinations to hit. It's the fair, y'all and this time I hit the scone-infested event a record four times! I saw Weird Al in concert, took my picture with both Patrick and Spongebob, got my treat bag, saw the draft horses and heard strains of Devo in the background while getting a photo button made. I noshed on strawberry shortcake and loaded baked potatoes, almost got hypnotized, checked out the hobby hall, got tipsy on free egg nog and chocolate milk and didn't ride any rides!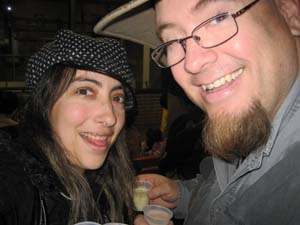 My fair co-horts were Nick, Alex, Tina and Michelle and since my bud Alex worked the fair parking lot, he had the hookup on some free fair passes! It is a tradition of ours to get our pic with Spongebob, but this year I got my pic with Patrick too - woohoo! And a first in my fair traditions, I got my photo button this year with Tina! A girl for the first time! I had great fun making the fair special for me and my friends this year. Thank you to everyone who was involved!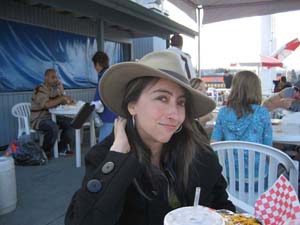 Here's our fair photo gallery for you to enjoy!
THE WEIRD AL CONCERT!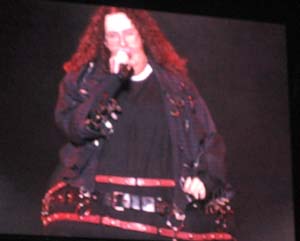 Well, it's hard to write a review when you missed part of the show, but Al decided to be uber professional and start his amazing show early! I had Alex and Tina get to their seats while I went to get Nick, (since we had seen his show twice before). We made it in just as he was doing "Al-TV", (great hilarious segments on the large TV's in between costume changes), and mock interviewing Madonna. He made a valid point about how she always looks up at the ceiling when she talks, (I wonder that too!) and after enjoying that segment, we found out seats had been taken by some punks who we promptly kicked out of there! They ain't taking my seat!
The Weird One was in top form doing new songs, medleys and classic tunes. My personal faves were -
Fat, Yoda, Smells like Nirvana, Amish Paradise, Eat It and some song he sang on a Segueway! I could feel my mom's happy presence with us as she really loved the Al-man. He was a true showman and top notch to the very last song.
Now, if only had merchandise at the show!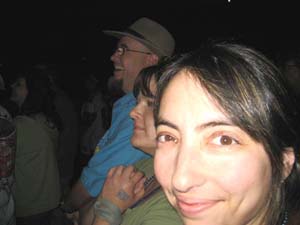 4 stars
Here are more pics from the show!
Powered by erocs.org